One of the quitisential landmarks of any combat arms soldier serving in the 2nd Infantry Division and a subject of much debate on how it got there is the Chinaman or Chinese Tunnel in northern Kyeongi-do:
The tunnel is located between the old Camp St. Barbara area and the Korea Training Center along an old dirt road that was once incredibly Highway 37. The dirt road snakes along the side of some steep hills before passing through a steep cliff face where the Chinese Tunnel is located:
This tunnel was used for years as the main route for all US military equipment traveling through the area. Fortunately now there is a sturdy, modern highway bridge that passes across the river thus avoiding the need to the use bridge for most US military equipment:
However up to this decade heavy track equipment was required to continue to use the tunnel instead of the bridge due to the weight restrictions of the bridge.
This is the view before entering the tunnel looking down the Hantan River towards the west:
The Hantan River may look shallow in this picture but I have seen this river in the rainy season nearly reached the top of the modern highway bridge pictured above.
Here is how the tunnel looked back in the early 1960′s: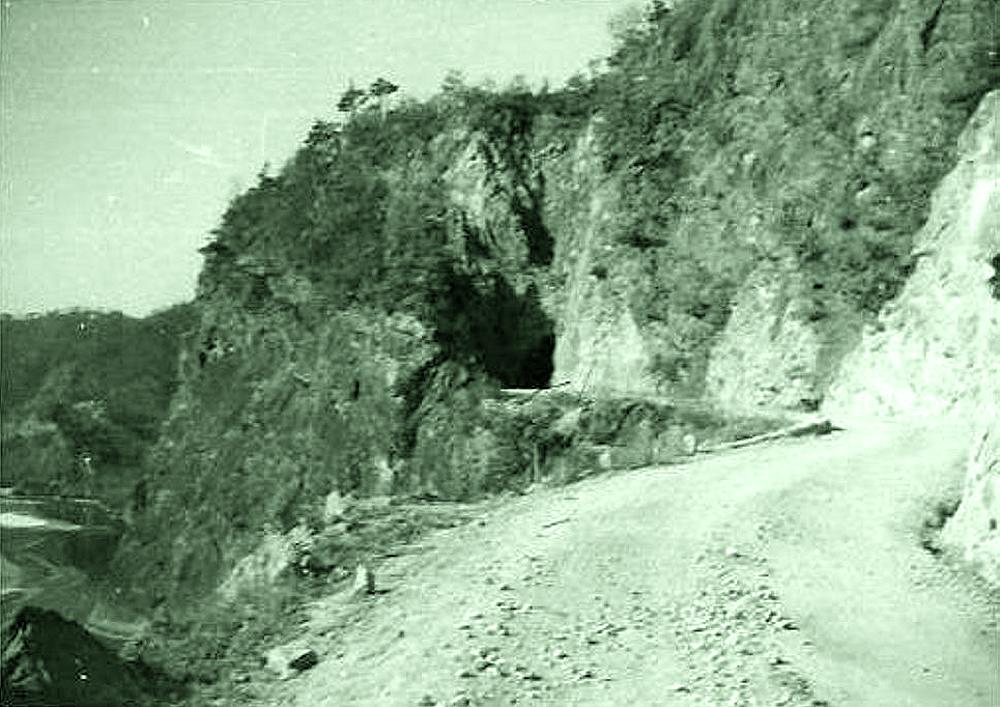 The road from this vantage point looks nearly the same today other then the guard rail that has been constructed. Nothing over the years has changed with the interior of the tunnel as well:
Having passed through this tunnel more times then I can remember in a Bradley going to gunnery at the Korea Training Center; I can say from experience that this tunnel is just high enough for the Bradley to pass through and I could actually touch the top of the tunnel with my fingers from the top of the Bradley.
Here is what the entrance of the tunnel looks like from the west side:
I have heard this tunnel called both the Chinaman Tunnel and the Chinese Tunnel and along with the multiple names, I have also heard multiple explanations on how this tunnel received it name. Here is the list of the various reasons I have heard over the years:
The Chinese Army was trapped during the Korean War and dug the tunnel to escape.
The Chinese dug the tunnel when the bridge across the Hantan River was destroyed during the war.
The Japanese used Chinese laborers during the colonial period to dig the tunnel.
That it was not made by the Chinese but in fact was made by Koreans before the war but was mislabeled the Chinese Tunnel by GI's during the war.
I have no idea which story is correct and I have Googled around trying to find information substantiating who built the tunnel but have never been able to find out.
Anyway here is something old 2ID veterans will not recognize on the west side of the tunnel:
The tall building is a hotel that was built along this dirt road well off of the main Highway 37 for some reason. Here is what the dirt road that passes through the tunnel and past the hotel looks like:
Next to the hotel there is actually a small bridge that a few years ago I was in a convoy when a M1 Abrams tank fell off the side of the bridge and into a ditch. Fortunately no one was seriously injured in the accident. Besides the hotel there is only a few scattered farms located along the long dirt road such as this ginseng farm:
Here is a Google Earth image of the dirt road looking East up the Hantan River valley:
On the East side, the dirt road ends at an intersection, which going straight leads to the old Camp St. Barbara area and taking a left goes across an old bridge that links to the new Highway 37:
The bridge looks old and rickety but it is actually sturdy enough to support heavy tracked vehicles:
Here is the intersection I mentioned earlier leading to Camp St. Barbara area:
If you know more about the history of the Chinese Tunnel and how it got its name feel free to leave a comment in the comment section below because I would really like to know what the actual reason is on how this tunnel received its name.

Tags: