The USO since its founding in 1941 has had thousands of celebrities entertain troops through numerous wars over the years.  Bob Hope is always the name most people remember as being affiliated with the USO due to his multiple decades of service to the organization.  However, the USO has probably never had a celebrity that brought as much excitement to the troops as with Marilyn Monroe's visit to South Korea in 1954.
Monroe's visit to Korea was a spur of the moment decision that ultimately helped lead to the end of her marriage with baseball slugger Joe DiMaggio.  Monroe and DiMaggio after a whirlwind romance were married on January 14, 1954 in California.  The best man at the wedding was DiMaggio's long time friend "Lefty" O'doul who is known as the father of baseball in Japan.  O'doul was the then manager of the San Francisco Giants and is credited with giving the Tokyo Giants its name due to his work promoting baseball in Japan.
After the hastily organized wedding Lefty recommended to the newlyweds to spend their honeymoon in Japan to escape the hordes of fans and media that hounded the couple after their surprise wedding.  DiMaggio had already agreed to go with Lefty sometime in the future to promote baseball in Japan, so he figured he could keep his promise to lefty and escape the mobs following them by honeymooning in Japan.  DiMaggio would soon find out how wrong he was.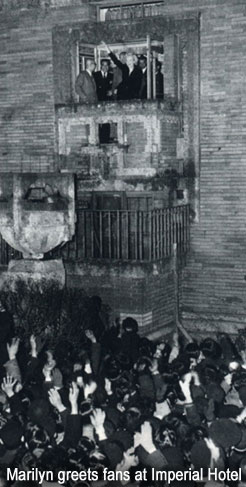 Monroe, DiMaggio, Lefty, and his wife Jean all flew to Japan on Feburary 1, 1954.  It was during this flight that General Christenberry who flew on the plane with the couples approached Monroe about entertaining troops in Korea.  General John E. Hull of the military's Far East Command would later send her a formal invitation when she landed in Japan.  When Monroe and DiMaggio landed in Japan they saw that the crowds that met them there were worse than anything they saw back in the US.  While in Tokyo the couple were literally trapped in their hotel due to the large Japanese mobs that surrounded the Imperial Hotel which they stayed at.
Joe DiMaggio had agreed to a 24 day promotional tour of baseball around the country and played plenty of golf with O'doul, which left Marilyn often alone at the hotel, while she suffered through bouts of endometriosis that often left her in great pain.  So I do find it a bit odd that DiMaggio got upset at Marilyn when she accepted General Hull's invitation to entertain troops in both Japan and Korea. When DiMaggio heard of this announcement he told news reporters at the Imperial Hotel, "We're supposedly on our honeymoon, and this is what happens!"  DiMaggio was also supposedly upset that when Marilyn attended some of the Japanese baseball games he was promoting all the fans' attention turned towards her instead of him.
Monroe while in Japan did visit a military hospital and spend some time with the troops stationed there.  Monroe would go on to spend a few days with her husband touring the Izu Peninsula, Hiroshima, and finally Fukuoka before flying to Korea.  Marilyn arrived in Korea on February 16, 1954 to begin her four day USO tour of the country.  You have got to love the military ID given to Marilyn as a USO entertainer with her official name of Norma Jean DiMaggio:
Since the visit was so hastily arranged Monroe had no band perform with, so the US military gathered together 11 military band members to form the, "Anything Goes Band" to support her performance.  However, the GI's serving in Korea could care less that she didn't have a real band, they came to see her.
Here is Monroe meeting with members of the 25th Infantry Division:
Here she is posing with what appears to be Korean baseball players:
Is there anything sexier than Marilyn Monroe on a tank?:
During her visit to Korea Monroe was seen with a bandage thumb which allegedly occurred due to a cake cutting accident while in Korea:
However this bandage thumb has been alleged to be caused by Joe DiMaggio swiping a cup away from her in anger after hearing of her announcement to entertain troops in Korea.  This picture taken in Fukuoka, Japan before her Korea trip seems to confirm this suspicion:
Her husband may have been pissed off at her, but the GI's in Korea loved her.
Monroe's performances were so popular in Korea that a stampede broke out when she performed for the 45th Division.  Thousands soldiers waiting in line for hours to get in to see the performance in one degree below zero weather, had grown impatient waiting for the show to begin.
The soldiers in their frustration began throwing rocks at the stage and crew demanding that they be let in and the show to start.  One person injured by the demonstrators had to be taken away in an ambulance.  Concert organizers had to rush to get Monroe to the stage and canceled the concert's opening acts to prevent a riot.  The soldiers absolutely went berserk when Monroe took the stage.  The soldiers were so delirious after the performance that organizers felt it wasn't safe to let her mingle with troops and sign autographs after the show.  The acting 45th Division commander Brigadier General John C. Oakes instead took Monroe around in his Jeep to see military units in the area.

After the Jeep tour of the 45th Division Monroe was handed over to the commander of the 2nd Infantry Division Maj. Gen. William Barriger.  The commanding general took Monroe to have dinner with enlisted troops in the chow hall.

Monroe would go on to wow audiences throughout her trip to Korea with fortunately no more riots breaking out:
Marilyn Monroe left Korea from Daegu Airbase on February 19, 1954 where she gave one last show to 9,000 airman stationed there. It was in Daegu that Marilyn gave her only performance of "Diamonds are A Girls Best Friend".  She was weary of performing such a song in front of troops that could hardly afford such a luxury for their girlfriends.  So she waited to the end of the tour where she had to borrow some diamonds from Lefty O'doul's wife because she had forgot her's at home.
Just think that she is out performing for hours in below freezing weather wearing this compared to all the GI's in the crowd wearing winter clothes:
At the conclusion of the show Monroe flew back to Japan to meet her husband who was staying in Itami.  The couple continued their honeymoon in Japan until they flew back to the US on February 24, 1954.  I have always felt that DiMaggio missed a really good opportunity to bond with his wife by not joining her on the USO tour in Korea.  Instead of complaining about her going, he should have embraced it.  Sure Monroe would be more popular than him with GI's that haven't seen their girlfriends back home in month, but they still would have appreciated him coming; more importantly I think his wife would have appreciated him coming even more. Marilyn even hinted at this when she told one crowd, "I'm sorry Joe can't be with me in Korea.".  Unsurprisingly the marriage only lasted for eight months before Marilyn filed for divorce.
In all Monroe made 10 different appearances to entertain troops all across Korea during her 4 day visit to the peninsula.  It is estimated that over 100,000 servicemembers saw her perform during all those performances.  Marilyn often reflected back that her trip to Korea was one of the best experiences of her life and the moment when she realized she had become a superstar.  Quite a remarkable trip when you think about how circumstances of general flying on the same aircraft that the surprise newlyweds were making their last minute honeymoon to Japan on, led to quite possibly the greatest show the USO has ever put on.
Further Reading:
Tags: