On Tuesday night Korean-American Michelle Rhee who was the Washington, DC school superintendent from 2007-2011 was featured on PBS's Frontline program. For those that don't watch PBS, Frontline is one of the best news & documentary programs available on TV. This episode about Michelle Rhee is no different.  You can view the Frontline program The Education of Michelle Rhee at the link.
After watching the program I was surprised the level of access that Rhee gave the Frontline camera team. She allowed them to follow her around during her entire tenure as the DC school superintendent. From the documentary you can tell that Rhee relished her very public status as well as being known as a change agent. The DC schools have long been known as being some of the worst in the country and Rhee felt that only quick, decisive, and dramatic change could fix it. Frontline attempted to find out if her style of change did in fact fix the DC schools. On paper it appeared Rhee had made dramatic gains in improving education at the schools even after just her first year due to high scores some of the schools received on the standardized testing she implemented. She implemented these tests to not only have something quantifiable to judge student performance, but also to link teacher performance to the tests. So if the students did poorly their teachers faced being fired.
The lack of accountability for unionized teachers is one of the biggest problems I have with the profession. I think there should be accountability for anyone in public service. Frontline showed how near impossible it is to get a teacher fired even ones caught sleeping in classrooms. They just get shuffled around from school to school. This is a phenomenon not unique to the DC schools since the documentary Waiting for Superman showed this same thing happening in New York schools as well. In New York bad teachers were put in "rubber rooms" where they were paid to sleep and play games all day.  Something Frontline did not show, but I think should of is how corrupt the Washington Teacher's Union is that Rhee was dealing with.  Anyway accountability would ultimately be something that made Rhee different from past superintendents. She was able to convince political leaders to give her the power to fire people.
Teachers and administrators in DC schools for the first time began to have fear of being fired for not doing well.  However, I think one of the key areas where Rhee failed was that she tied too much of the teachers performance to the test scores.  Teachers in the documentary pointed out how hard it is to teach kids in certain schools because of gang violence, drugs, domestic abuse, and malnourishment.  They felt like they were helping these students in ways that cannot be measured on a test.  Rhee in the documentary said that she understood these challenges, but she refused to believe these kids could not learn like other kids.  She based this experience from her time teaching in a low income school in Baltimore.  She says her students despite home challenges saw huge increases in their standardized test scores.  Rhee however could not prove this assertion, but Frontline did interview a former student of hers who verified that she was a demanding teacher that did get results in the classroom.  Anyway due to Rhee's heavy reliance on standardized tests in DC, the teachers there decided to cheat.  Some of the schools showed big gains on their tests and Rhee awarded cash bonuses to the administrators and teachers in these schools for their performance.  A USA Today investigation of one of these schools showed that the tests had a high erasure rate which statistically did not match what students usually have on standardized tests.  The allegation is that the teachers were changing answers after the tests were turned in to improve scores.
In future years more standardized tests were showing high erasure rates and Rhee eventually had an outside firm come in and investigate.  However, according to Frontline and teachers they interviewed the investigation was not very thorough and could not prove cheating was going on. In fact in one of the main cheating schools a new principal that came in witnessed teachers cheating on the tests.  After seeing the cheating she implemented new security measures to protect the tests and the school's scores dropped by 30%.  Despite all of this the outside investigators never bothered to interview her.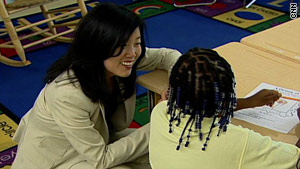 I think Rhee chose to not fully investigate because of how she so publicly acknowledged these higher achieving schools performance as an example to everyone else in the schools, political establishment, and media.  If it was determined that these schools were frauds it would have set back the reforms she was trying to implement.  This is disappointing because these teachers received large cash bonuses for cheating and likely got other teachers fired that did not perform well in other schools.  They should have been investigated to the fullest extent for fraud and because they were not there is some serious ethics questions now about Rhee.  This was not Rhee's first ethical lapses either.  Frontline did not mention this, but Rhee had also been linked to an attempted cover up of fraud and a sex scandal involving her future husband Kevin Johnson the former NBA star and mayor of Sacramento.  Something else that bothered me about Rhee was that she relished firing people.  She even allowed Frontline in her office to film her firing a principal.  Maybe the guy deserved to be fired, but something like that should not be filmed even if his face was blurred.  Also it appeared that Rhee made no attempts to try and retrain people to execute the reforms the way should wanted them done.  If someone has been counseled on expectations and provided adequate retraining then I can understand firing them.  From the documentary it did not appear she gave teachers ample opportunities to retrain themselves to be the type of teachers she expected.

She eventually lost her political supporters when she laid off over two hundred teachers instead of cancelling a summer school program to meet a budget short fall.  She did this against the guidance the city council gave her not to lay off the teachers.  This caused the teachers to launch large protests that put political pressure on the city council members who were now furious at her.  This furor would eventually help lead to the head of the city council defeating Rhee's key supporter the city mayor Adrian Fenty in the next election.  Once Fenty left office in 2011 Rhee was forced out the door with him thus ending her controversial term as the Washington DC school superintendent.

All in all Rhee's legacy in DC is mixed.  Just about everyone agreed reforms needed to be made and that Rhee was right about most things she advocated for.  However, the way she went about it by not getting buy in from teachers and shutting schools without feedback from parents was the wrong way to bring about change.  She likely thought trying to get buy in would slow her reforms.  However, by not getting buy in on reforms from the people effected by them she ended up getting resistance to everything she proposed.  Additionally her teachers saw the obvious ethical lapses with Rhee awarding cheaters at their expense that only further destroyed Rhee's creditability in the community.  If Rhee did not weight so much of the standardized tests towards teacher performance along with improved security for the tests she could have avoided the cheating that happened.  Because of the cheating Frontline said it was harder to judge Rhee's success in DC, but using test data from schools that likely did not cheat the DC schools did make modest educational gains during her tenure.  Considering the state of the DC school system modest gains should have been what was expected from the beginning instead of the unrealistic standards that Rhee was forcing on people to meet.  The DC school system wasn't broke in 3 years so Rhee was not going to be able to fix it in 3 years like she tried to do.  A problem as large as fixing the DC schools is going to take a long term effort involving the the whole community over a period of many years that someone cannot fix by sheer force of personality in such a short period of time like Michelle Rhee tried to do in Washington, DC.

Did anyone else see the Frontline documentary?  Please leave your thoughts about Michelle Rhee in the comments section.

Tags: